Cultural Tour - I - 7 Nights / 8 Days
Duration:
7 Nights / 8 Days
Day 01:
Arrive Mumbai
Welcome on arrival and then transfer to hotel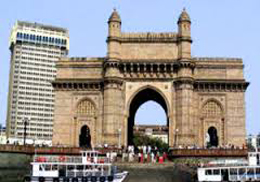 Day 02:
Mumbai
After breakfast leave for sightseeing including Gateway of India and the Elephanta Caves. It takes almost a full day to visit Elephanta caves. These caves reside in a small island by the sea, which is just 10-kilometers away from Gateway of India, Colaba. These caves are said to be as old as 5th century BC. An epitome of Hindu cave culture, Elephanta consists of 7-caves of which the most notable is Mahesa-Murti cave. It has a very impressive size with a main body of 27-meters square supported by rows of 6-columns each.
Back to hotel and overnight stay
Day 03:
Mumbai - Indore (by flight: 1 hour 15 minutes)
Assistance in airport transfer on board your flight to Indore; check in hotel after arrival and have breakfast. Later leave for sightseeing of this bustling and vibrant city that once belonged to brave Holkar dynasty queen- Ahilyabai. Opportunity to visit monuments like: Rajwada or Old Palace- a 200-year old building which reflects perfect combination of French, Mughal and Maratha architecture; Lalbagh Palace- that was used for holding important functions and celebrations in ancient Holkar dynasty (Monday Closed); Kanch Mandir (Mirror Temple)- also known as Seth Hukamchand Temple has painted walls, ceilings, floor, pillars and doors all inlaid with glass depicting stories from Jain scriptures; Chattri Bagh (palace of memorial canopy)- located near Khan River, it is characterised by number of chhatris (memorial canopies) dedicated to Holkar rulers and their family members; Bada Ganapati- famous for housing the largest Ganapati (Lord Ganesh) statue in the world.
Stay overnight at hotel in Indore
Day 04:
Indore - Mandu (98 kilometers; 2 hours drive)
After breakfast proceed to Mandu- known as City of Joy; en-route visit Dhar- an ancient city. Check-in hotel in the hills of Malwa region and visit monuments such as: Jama Masjid (mosque)- huge dome and minaret built inspired by mosque in Damascus; Hoshang Shah's Tomb- best example of Afghan architecture in India and probably the first marble edifice; Ashrafi Mahal (palace of gold)- built as a Madrassa (place for Islamic teaching) even today the rooms and cells here tell a story of teaching and studying; Jahaz Mahal (ship palace)- built to maintain large Harem (place where the ladies of rulers lived), this palace is in shape of a ship; Hindola Mahal (Swinging palace)- due to the slopes of the walls this meeting hall seems to be swinging; Champa Baoli- an interesting step-well that was popular hot weather retreat and featured cool wells and bathrooms; Taveli Mahal- houses an antiquity gallery; Baz Bahadur's Palace- spacious courtyard surrounded by halls and high terraces with an excellent view of countryside make this palace beautiful; Roopmati's Pavilion- perfect setting for fairytale romance, also gives a good view of river Narmada flowing through the Nimar plains. Watching the sunset from these pavilions gives maximum pleasure.
Stay overnight at hotel in Mandu
Day 05:
Mandu - Ujjain (139 kilometers; 2-3 hours drive)
After breakfast proceed to Ujjain and check-in hotel after arrival. Later leave for sightseeing including few of the places such as: Mahakaleshwara Temple- this Lord Shiva temple with lingam, which is one of the 12-Jyotirlingas (believed to be formed by own organs of Lord Shiva) in India; Bade Ganeshji Ka Mandir- has a beautiful sculpted image of Lord Ganesh, also provides opportunity learn Sanskrit language and astrology; Harsiddhi Temple- reconstructed during Maratha period its special features of Maratha architecture can still be seen on the walls and pillars; Navagraha Mandir- dedicated to 9-ruling planets (navagraha meaning 9-planets), it is located on the Triveni Ghat of the Shipra River.
Experience the spectacular ritual ceremonies at the riverbanks of Shipra. Stay overnight at hotel in Ujjain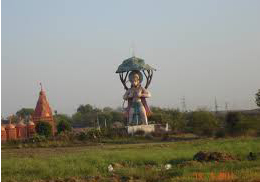 Day 06:
Ujjain - Bhopal (188 kilometers; 4 hours drive)
After breakfast proceed to Bhopal en-route visiting Bhojpur (28 kilometers South-eats of Bhopal) where the dream of King Bhoj were carved and also witness the shelters of the prehistoric cave dwellers at Bhimbetka- the famous rock-shelters of monolithic age (located 45 kilometers South of Bhopal).The visit to these two places can be done after reaching Bhopal also.
Check in hotel and relax; later opportunity for boat ride in Bhopal Lake. Stay overnight at hotel
Day 07:
Bhopal - Sanchi - Bhopal (68 kilometers; 1 ½ hours drive one way)
After breakfast leave for day excursion to Sanchi and witness the masterpieces of Buddhist Art that speaks the story of Emperor Ashoka becoming follower of Buddhism; also visit the museum near by. Later back to Bhopal and have opportunity to visit few of monuments like: Taj ul Masjid- the 'crown of mosques', an imposing mosque reputed to be one of the largest in India; The 'chowk" (square)- is the nerve centre of this old walled city; Shaukat Mahal- a quaint palace mix of European architectural styles, but yet compatible in an area dominated by Islamic architecture; The Jami Masjid and the Moti Masjid- inspired by Delhi's famous Jama Masjid that was built by Mughal Emperor Shah Jahan, are important mosques in the city; Bharat Bhavan- a unique institute devoted to the preservation of performing arts and traditional folk culture.Bhopal - Delhi (by overnight train)
Assistance in railway transfer on board your overnight train to Delhi
Day 08:
Delhi
Upon arrival check in hotel and have refreshment. After breakfast leave for sightseeing including Qutub Minar- the 72-meters high minaret is one among ancient wonders; visit to Indian parliamentary house and President's house from outside- that reflects the aura of Indo-British architecture; India Gate- triumph arch built in the memory of died soldiers in World War II and finally conclude your visit with a glimpse to Humayun's Tomb- that reflects the beautiful Indo-Islamic architecture.
Assistance in airport transfer on board your flight to onward destination, henceforth our services conclude and we wish a very safe and happy journey back home