Cultural and Wildlife Tour - I - 18 Nights / 17 Days
Duration:
18 Nights / 19 Days
Day 01:
Arrive Delhi
Welcome on arrival and then transfer to hotel
Day 02:
Delhi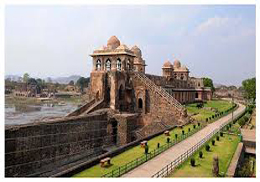 After breakfast leave for full day visit including Qutub Minar- the 72-meters high minaret is one among ancient wonders; visit Indian parliamentary house and President's house from outside- that reflects the aura of Indo-British architecture; India Gate- the triumph arch built in the memory of died soldiers in World War II and then finally you will finish your visit with a glimpse to Humayun's Tomb- that reflects the beautiful Indo-Islamic architecture.Delhi - Indore (by overnight train)
Assistance in railway transfer on board your overnight train to Indore
Day 03:
Delhi - Indore (by flight: 1 hour 15 minutes)
Assistance in airport transfer on board your flight to Indore; check in hotel after arrival and have breakfast. Later leave for sightseeing of this bustling and vibrant city that once belonged to brave Holkar dynasty queen- Ahilyabai. Opportunity to visit monuments like: Rajwada or Old Palace- a 200-year old building which reflects perfect combination of French, Mughal and Maratha architecture; Lalbagh Palace- that was used for holding important functions and celebrations in ancient Holkar dynasty (Monday Closed); Kanch Mandir (Mirror Temple)- also known as Seth Hukamchand Temple has painted walls, ceilings, floor, pillars and doors all inlaid with glass depicting stories from Jain scriptures; Chattri Bagh (palace of memorial canopy)- located near Khan River, it is characterised by number of chhatris (memorial canopies) dedicated to Holkar rulers and their family members; Bada Ganapati- famous for housing the largest Ganapati (Lord Ganesh) statue in the world.
Stay overnight at hotel in Indore
Day 04:
Indore - Mandu (98 kilometers; 2 hours drive)
After breakfast proceed to Mandu- known as City of Joy; en-route visit Dhar- an ancient city. Check-in hotel in the hills of Malwa region and visit monuments such as: Jama Masjid (mosque)- huge dome and minaret built inspired by mosque in Damascus; Hoshang Shah's Tomb- best example of Afghan architecture in India and probably the first marble edifice; Ashrafi Mahal (palace of gold)- built as a Madrassa (place for Islamic teaching) even today the rooms and cells here tell a story of teaching and studying; Jahaz Mahal (ship palace)- built to maintain large Harem (place where the ladies of rulers lived), this palace is in shape of a ship; Hindola Mahal (Swinging palace)- due to the slopes of the walls this meeting hall seems to be swinging; Champa Baoli- an interesting step-well that was popular hot weather retreat and featured cool wells and bathrooms; Taveli Mahal- houses an antiquity gallery; Baz Bahadur's Palace- spacious courtyard surrounded by halls and high terraces with an excellent view of countryside make this palace beautiful; Roopmati's Pavilion- perfect setting for fairytale romance, also gives a good view of river Narmada flowing through the Nimar plains. Watching the sunset from these pavilions gives maximum pleasure.
Stay overnight at hotel in Mandu
Day 05:
Mandu - Ujjain (139 kilometers; 2-3 hours drive)
After breakfast proceed to Ujjain and check-in hotel after arrival. Later leave for sightseeing including few of the places such as: Mahakaleshwara Temple- this Lord Shiva temple with lingam, which is one of the 12-Jyotirlingas (believed to be formed by own organs of Lord Shiva) in India; Bade Ganeshji Ka Mandir- has a beautiful sculpted image of Lord Ganesh, also provides opportunity learn Sanskrit language and astrology; Harsiddhi Temple- reconstructed during Maratha period its special features of Maratha architecture can still be seen on the walls and pillars; Navagraha Mandir- dedicated to 9-ruling planets (navagraha meaning 9-planets), it is located on the Triveni Ghat of the Shipra River.
Experience the spectacular ritual ceremonies at the riverbanks of Shipra. Stay overnight at hotel in Ujjain
Day 06:
Ujjain - Bhopal (188 kilometers; 4 hours drive)
After breakfast proceed to Bhopal en-route visiting Bhojpur (28 kilometers South-eats of Bhopal) where the dream of King Bhoj were carved and also witness the shelters of the prehistoric cave dwellers at Bhimbetka- the famous rock-shelters of monolithic age (located 45 kilometers South of Bhopal).The visit to these two places can be done after reaching Bhopal also.
Check in hotel and relax; later opportunity for boat ride in Bhopal Lake. Stay overnight at hotel
Day 07:
Bhopal - Sanchi - Bhopal (68 kilometers; 1 ½ hours drive one way)
After breakfast leave for day excursion to Sanchi and witness the masterpieces of Buddhist Art that speaks the story of Emperor Ashoka becoming follower of Buddhism; also visit the museum near by. Later back to Bhopal and have opportunity to visit few of monuments like: Taj ul Masjid- the 'crown of mosques', an imposing mosque reputed to be one of the largest in India; The 'chowk" (square)- is the nerve centre of this old walled city; Shaukat Mahal- a quaint palace mix of European architectural styles, but yet compatible in an area dominated by Islamic architecture; The Jami Masjid and the Moti Masjid- inspired by Delhi's famous Jama Masjid that was built by Mughal Emperor Shah Jahan, are important mosques in the city; Bharat Bhavan- a unique institute devoted to the preservation of performing arts and traditional folk culture.Stay overnight at hotels.
Day 08:
Bhopal - Panchmarhi 200 kilometers; 5 hours drive
After breakfast proceed to Panchmarhi.Panchmarhi is a hill station situated amidst the Satpura range of hills at a height of 3550 ft from sea level. It is the only hill station in entire state of Madhya Pradesh and is also known as the Queen of Satpura for its spectacular beauty. Low-lying rugged hills, ravines, beautiful forests, 12-breathtaking waterfalls, serene pools and quiet glades surround this place.
upon arraival at Panchmarhi checkin hotel, overnight stay at hotel
Day 09:
After breakfast proceed to Jata Shankar cave near by(by trek) Its name is derived from a rock formation resembling the matted locks of Lord Shiva. The cool waters of Jambu Dwip stream take its source from this cave. Overnight stay at hotel
Day 10:
Panchmarhi
After breakfast leave for full day visit to few of places like: Bee fall (3-kilometers from town)- now known as Jamuna Prapat it is a spectacular fall in the stream, which provides drinking water to Pachmarhi, there is ½ kilometer pathway down to the fall where one has to walk only; Priyadarshini Point- 10-kilometers away from town it was earlier known as Forsyth point (Captain James Forsyth of the Bengal Lancers who discovered the valley in 1857 from this point). The view from this point is spectacular especially at sunset, when the 3-dominating peaks; Chauradeo to the left, Mahadeo in the centre and Dhupgarh, the highest point in the Satpura ranges to the right; appear glowing red and fiery in the setting sun against the purple background of the sky
Back to hotel and overnight stay
Day 11:
Panchmarhi - Kanha (280 kilometers; 7 hours drive)
After breakfast proceed to Kanha.
Check in hotel and stay overnight
Day 12:
Kanha
After breakfast leave for full day visit to Kanha National Park; opportunity for jeep safari. Have packed meals at lunchtime and then continue jungle visit.
Back to hotel, enjoy tribal folk dances around bonfire and stay overnight
Day 13:
Kanha - Jabalpur (165 kilometers; 4 hours drive)
After breakfast proceed to Jabalpur- the Marble City, check-in hotel and rest.
Leave for an excursion trip to Bedhaghat and enjoy romantic boat ride on river Narmada. Stay overnight at hotel in Jabalpur
Day 14:
Jabalpur - Bandhavgarh (200 kilometers; 5 hours drive)
After breakfast proceed to Bandhavgarh, check-in hotel and have refreshment
Opportunity for nature walk; stay overnight at hotel in Bandhavgarh
Day 15:
Bandhavgarh
After breakfast visit to Bandhavgarh National Park; opportunity for ride on elephant's back and enjoy bird watching, Tiger trail and other wild animals in their natural habitats.
Overnight stay at hotel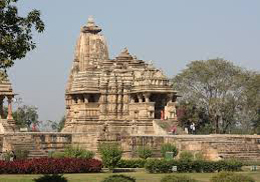 Day 16:
Bandhavgarh - Khajuraho (240 kilometers; 6 hours drive)
After breakfast proceed to Khajuraho
Check-in your hotel in Khajuraho. Later leave for temple visit.In Khajuraho the main attractions are the temples having rock-cut figures depicting the various erotic forms in attractive styles. The 3 important groups of temples are EASTERN GROUP (Parsavanatha, Ghantai & Adinatha temple), SOUTHERN GROUP (Duladeo & Chaturbhuj temple) and WESTERN GROUP (Kandariya Mahadeo, Chaunsat Yogini, Chitragupta, Vishwanath, Lakshama & Matangeshwara Temple). Back to hotel at night and stay overnight
Day 17:
Khajuraho - Orchha (180 kilometers; 4-5 hours drive)
After breakfast proceed to Orchha; check in hotel and rest
Leave for sight seeing including visit to monuments like: Jehangir Mahal- worth to see delicate chhatris (cenotaphs) and trellis work; Raj Mahal- is crowned by chhatris that give way to interiors with exquisite murals, boldly colourful on a variety of religious themes; Rai Parveen Mahal- has a low, two-storied brick structure, beautiful landscaped gardens with its octagonal flower beds and elaborate water supply system; Chaturbhuj Temple- built upon a massive stone platform and reached by a steep flight of steps, the temple was specially constructed to enshrine the image of Lord Rama; Laxminarayan Temple- contains interiors of most exquisite Orchha wall paintings; Phool Bagh- laid out as a formal garden, this complex testifies the refined aesthetic qualities of the Bundelas; Sunder Mahal- this small palace, almost in ruins today is still a place of pilgrimage for Muslims; Chhatris- there are 14-Chhatris or Memorials to the rulers of Orchha, grouped along the Kanchan Ghat of the river Betwa. Stay overnight at hotel in Orchha
Day 18:
Orchha - Shivpuri (110 kilometers; 3 hours drive)
After breakfast leave for half-day visit of Orchha and then proceed to Shivpuri; on arrival leave for a small city tour.Shivpuri - Gwalior (112 kilometers; 3 hours drive)
Later proceed to Gwalior; check in hotel and stay overnight
Day 19:
Gwalior
After breakfast visit Royal city of Gwalior half day including huge Fort of Gwalior- the largest fort in India; also visit splendid Palace of Maharaja- that belongs to Royal Schindhia family. Later explore the busy markets of old Gwalior.Gwalior - Delhi (by train: 5 hours)
Assistance in railway transfer on board your train to Delhi; upon arrival again assistance in airport transfer on board your flight to onward destination. Henceforth our services conclude and we wish a very safe, happy and memorable journey back home